Events
Following the positive impact on the First International Symposium on rare Earth held in Kuala Lumpur Featuring International experts on the subject in 2012, we went on to do the same for our client AKADEMI SAINS MALAYSIA, at the very epicentre of the crisis on issue surrounding the safety of rare earth brought in for processing from Western Australia to the Gebenga facility by Lynas Corporation. This won ASIAPR its ASEA PR EXCELLENCE AWARD 2015 FOR CRISIS MANAGEMENT.
The second international symposium on rare earths was held in Kuantan in 2013 at University Malaysia Pahang (UMP) in Gambang. Preparatory meeting conducted at UMP by Prof Dato Dr Ahmad Zaidee and Prof Dato Dr Badrulhisham.G.
This engagement won the ASEAN PR EXCELLENCE AWARD FOR 2015 for CRISIS MANAGEMENT. Our clients AKademin Sains Malaysia /MOSTI and Lynas. All the PR accompaniments from media centre to exclusive TV coverage , exclusive interviews and site visits for foreign experts.
The launch of the inaugural Earths Report by our client Academy of Sciences Malaysia followed by the hosting of the first international symposium on Rare Earths held in Kuala Lumpur in December 2011.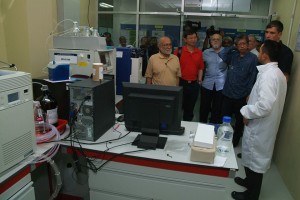 Exclusive documentary interview and footage shooting and filming by Astro Awani , arranged by ASIAPR in 2013 for our clients Wyndham Homes – a breakthrough construction technology using composite material.
State Assemblyman for Batu Kawa Prof Dr Sim is seen here a few days before the 2016 Sarawak state Elections – an election that saw SUPP bouncing back with vigour, valour and victory. He was on the ground then breaking through doubts over his sincerity by fence sitters. Today a year later, he is still on the ground dealing with people issues.
One of ASIA PR's signature projects was a book on:  TAIB – THE VISIONARY.  The book was promoted nationwide. Here,  Mr Siva handing a copy of TAIB -THE VISIONARY for Khairo -CEO of Espifokus and meeting up with their GM Redza at Solaris in Mont Kiara.
Launch of Bank Negara's Karnival Kewangan Sarawak held at CityOne Expo Centre in Kuching by YAB Chief Minister Datuk Patinggi Abg Johari Tun Abang Haji Openg accompanied by the Governor of Bank Negara, Tan Sri Muhammad bin Ibrahim.